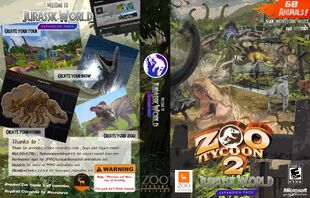 Welcome To Jurassic World
Expansion Pack is an expansion pack created by
Zoo Tycoon 2 Thailand
. It contains 50 prehistoric creatures and 10 hybrids from the Jurassic World franchise, as well as several new features.
Adopting all hybrids, except Indominus Rex and Indoraptor, requires the use of the Creation Lab. An example of this process can be found in the Hybrid Creation Demonstration Video.
​​​Contents
Edit
Where to Find
Edit
Community content is available under
CC-BY-SA
unless otherwise noted.