"Extinct Animals" redirects here. If you are looking for animals that are extinct, go to the extinct animals category.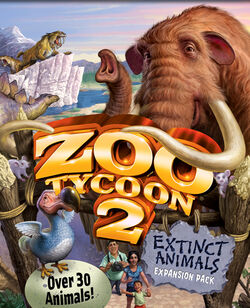 Extinct Animals was the fourth expansion pack for Zoo Tycoon 2. It was developed by Blue Fang Games and released on October 16th 2007. It replaces, and includes the similar Dino Danger Pack premium download.
Contents
See the Extinct Animals category
Animals
Downloads that need Extinct Animals
Most prehistoric animals need Extinct Animals to work, since it includes base animals and animations used to make them, as well as food, enrichment and shelters, and the new "Extinct" conservation status.
Many ducks and geese need the dodo nodes to work, and some bovines use aurochs animations,